If you're looking for the perfect vehicle to help you get around Blue Springs, Raytown,

 or Lee's Summit, then you should consider driving a crossover SUV. As some of the top vehicles on the road today, crossover SUVs provide the performance you need and the features you want, especially if you're behind the wheel of a popular model like the Ford Escape or the Honda CR-V.
Leaders in their class, both the Escape and the CR-V make great options, and if you're trying to decide between these two models, comparing them head to head can be a useful exercise. Here are a few tips to help you choose between the Ford Escape vs. Honda CR-V, including some of the best features of these two crossover SUVs. Feel free to contact us with any questions or to schedule a test drive.
Picking Your Engine Power
The main area that you should consider when choosing your next crossover SUV is engine power. Without the right level of engine performance, you won't have the driving experience you deserve, making it a good idea to directly compare the top engines of the Escape and the CR-V.
The top engine option in the CR-V is an turbo inline 4-cylinder that produces 190 horsepower and 179 lb-ft of torque. While this might be enough power for most drivers, power-hungry motorists need the Escape and its 2.0L Twin-Scroll EcoBoost® engine that delivers an irresistible 245 horsepower.
Towing the Equipment You Need for Adventure
When you're ready to take a road trip, you want to be certain that you won't have to leave any of your important items behind. This means you need a crossover SUV that provides the right amount of towing capacity, which is another area that can help you decide between the Ford Escape vs. Honda CR-V.
If you choose the CR-V as your next vehicle, you'll have a maximum towing capacity of 1,500 pounds. However, when properly equipped, the Escape provides a maximum towing capacity of 3,500 pounds, meaning it's the SUV you need for hauling your heavy equipment.
Comparing Off-Roading Systems
While you're out and about in your crossover SUV, you want to be able to go off-road whenever you desire. Both the Escape and the CR-V offer high-quality off-road systems, necessitating a closer look.
The CR-V provides an available Real Time All-Wheel Drive System with Intelligent Control that has excellent handling during tough driving conditions. However, if you want an off-road system that constantly monitors the road, you need the Escape and its Intelligent Four-Wheel Drive System; it checks road conditions every 16 milliseconds to ensure that you always have the right level of traction.
The Winner of Ford Escape vs Honda CR-V
Though the battle to be the market's best crossover SUV was tough, the winner is the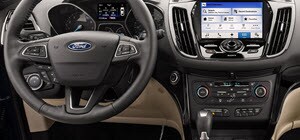 Ford Escape, which beats the CR-V in every important category, including engine power, towing ability, and off-road capability. See the outstanding Ford Escape for yourself by scheduling a test drive today at Dick Smith Ford.
Dick Smith Ford offers our clients from Lee's Summit, Raytown, and Blue Springs with an inventory of can't-miss new and pre-owned vehicles, and we're ready to listen to your needs and help you find your ideal vehicle.