2018 Reviews:
2017 Reviews:
2017 Ford Explorer Review
2017 Ford Fiesta Review
Purchasing a brand-new car is so exciting, and half the fun is searching for the perfect vehicle for your needs. There's so much to consider when it comes to finding a new vehicle for your drives around Raytown, Lee's Summit, and Blue Springs. We understand how important it is to conduct thorough research before making such a large purchase, which is why we've written numerous car reviews of our Ford models for you to explore.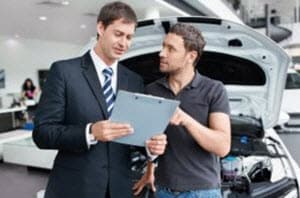 With these reviews from the team at Dick Smith Ford, you'll get a comprehensive look inside many of our available models in one convenient place. We hope to make your search for the perfect car quicker and easier so you can focus on the excitement of getting behind the wheel of your new car for the first time!
What to Expect
We've compiled all the information you'll need to know about a car before making a purchase, and since it's contained in one place on our website, you'll be able to easily digest information and compare different models.
Here's what you can expect to find in each of our vehicle reviews:
Gas mileage ratings
Horsepower
Technology and entertainment features
Interior specs and cargo capacity
Safety ratings
Do Your Research
Since a car purchase is such a big deal, you'll want to make sure that you know everything there is to know about a car before you get it. Be sure to explore multiple models before settling on one, even if you think you know what you want before you get started. You never know what you'll discover when you keep an open mind during your search! You may find that you'd prefer something larger or that there's a cool feature available that you didn't even know you wanted. Reading reviews of multiple models is a great way to understand the differences between vehicle classes and styles and easily compare models side by side.

Our reviews can help you to conduct all this research quickly and efficiently because you can find everything you need right on this page! You'll spend less time scouring the web for answers and be able to get behind the wheel of a new car faster. Simply locate the vehicle on this page in which you're interested and click through the link to read about the features and specs. If you have any additional questions, feel free to contact our dealership to speak to one of our automotive experts.
Give it a Test
Once you've narrowed in on a model, it's time for the best part of the search: taking the car on the roads of Raytown, Lee's Summit, and Blue Springs for a drive. No matter how many great features and options a car has, you won't know if you truly love it until you get behind the wheel and drive it yourself. Contact the team at Dick Smith Ford today to schedule a test drive of your brand-new car!