The area of Raytown, MO, is full of history that needs to be explored. One great way to do this is in a beautiful old B&B with lots of modern amenities.
If you're looking to get away for a few days, then read through our guide to the best bed and breakfasts near Raytown, MO...
More Than a Century of Hospitality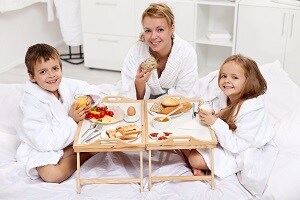 If you're looking for a relaxing stay in a historic B&B, then visit Hawthorn Bed & Breakfast. Situated on two acres in a quiet residential neighborhood, this inn has everything you could want for an enjoyable stay.
It has hardwood floors and hand-painted murals, things you'd expect to find in a 19th century historic home. But it also has modern conveniences, such as a private bath, cable TV, and wireless internet.
You'll get to enjoy a hearty, home-cooked breakfast each morning, too, at a private table in the dining area. And feel free to read a book in the Music Room or have a glass of wine on the front veranda.
Check out photos of this charming B&B on the Hawthorn Bed & Breakfast Facebook page.
Blending Past Elegance with Present Comforts
The Silver Heart Inn Bed & Breakfast blends sophistication from a bygone era with modern conveniences. What makes this place special is that it remains historically intact, with the original stairways and wood moldings. The windows even have etchings from the first young ladies who came of age in the house.
There are four beautifully appointed rooms to choose from, along with two well-appointed cottages. If you're a history lover, then you'll enjoy the reenactors in period costumes.
They'll greet you when your first check in, and will regale you with stories of the families who once lived there. They'll also offer some refreshments around 4:00 PM that you can enjoy on the breezy screen porch.
Learn more on the Silver Heart Inn Bed & Breakfast Facebook page.
A B&B with a Rich History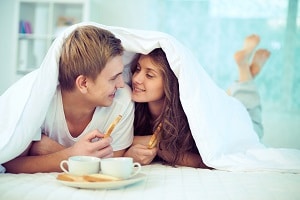 At Woodstock Inn Bed & Breakfast, you'll get to stay in a European-style B&B with an interesting history. It was first built in the 1890s, as the residence of Morris Short and his family. He and his wife, Viola, had a daughter named Ruby McKim who would later become famous as a quilter and publisher. In fact, she was inducted into the Quilter's Hall of Fame in 2002.
Her legacy lives on in this B&B, with beautifully decorated rooms in the inn and adjoining Victorian Mansion. There are plenty of amenities throughout the buildings, as well. Curl up by the fire in the Italian Spa Suite, or relax in a jacuzzi in the English Luxury Spa Room.
There's also a gourmet breakfast every morning, along with drinks and hors d'oeuvres in the evening, and a daily turndown service with chocolates.
Visit Woodstock Inn Bed & Breakfast on Facebook for a look at all their rooms and services.
Book Your Stay Today
There's no time like the present to learn all about the past. Make your reservations today for any of the above bed and breakfasts near Raytown, MO. We're sure you'll have a relaxing and enriching experience.