If you enjoy the thrill of the hunt, solving complex puzzles, and searching for clues, you'll love the excitement of an escape room.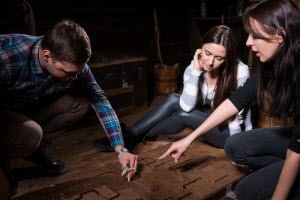 You and your friends will be locked in a room for an hour, and you'll have to work together to find the key and escape in time! These are our picks for the best escape rooms in Raytown, Missouri.
Escape this Place
With a focus on serving as the main character in a story, Escape this Place allows you to actively participate in a narrative as you race to solve puzzle, decipher clues, and escape from the room in which you've been locked. Choose from two stories to be a part of, either finding a secret artifact or solving two cold-case disappearances.
Novus
This unique escape room touts its title as the very first character-based escape room in the world. At Novus, each participant in the game will be assigned a certain character, which will enhance strategy among players and create a more intense atmosphere. Every character has a special responsibility to complete in order to break out of the room, with titles such as the Light Bringer, Lock Master, Scholar, Healer, and more, each with their own unique abilities. Five different rooms are available, each with its own story, including an intellectual war in the 1940s, a creepy puppet show, a world depleted of natural resources, and more.
Tick Tock Escape Games
Tick Tock Escape Games places a focus on adding to your experience by using special technology and sound to make the game truly immersive. These rooms have been meticulously created and decorated to be as authentic to their stories as possible, with three unique settings to choose from. Solve your uncle's riddles to be chosen as the recipient of his estate, Beasley's Billions. In Pyramid Paradox, you'll race to escape an Egyptian tomb.